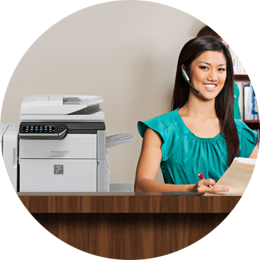 Digital Imaging Devices
Imaging Devices are IT Devices…
Do you currently use a separate company to support your digital imaging needs from your IT Company? Why not merge the two companies and gain the cost effectiveness of having one company meet both needs. Copiers and printers are really IT devices connected to your network in order to save time and be cost effecient.
Copier and Printer Sales:

Evolutions Technologies is on the forefront of the new trend of Digital Imaging companies providing both services. Usually it is not an IT company providing copier and printer devices, it's the opposite. But we found that we are able to provide better service since we have a vast IT background and have top-notch copier technicians on staff. Usually those "copier companies" do not employee veteran IT personnel, they call us to get the devices on your network. We offer both new and used digital imaging devices along with service agreements. We are Sharp certified and carry Samsung devices.

Managed Print Services

Managed Print Services allows us to actively manage and optimize document output within your business processes. We use print management software in order to manage print volume and user authentication. We are able to reduce infrastructure cost and improve productivity by analyzing usage data.

Service and Supplies

We offer maintenance agreements with our copier and printer sales, but we are also able to provide service contracts on existing devices. Evolution Technologies is able to leverage our buying power to provide cost-effective ink and other copier/printer supplies. Our technicians are certified to work on Sharp imaging devices and other multi-function devices.